Software Developer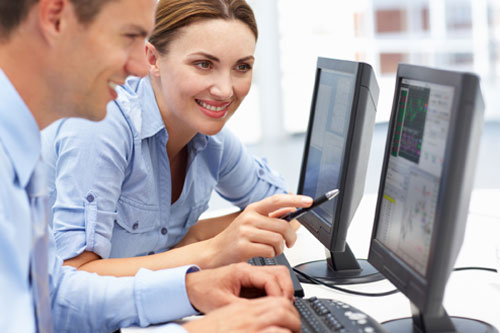 The use of a computer, cell phone, video games, e-reader and the software programs or apps on these devices have been developed by a software developer. They work on every possible aspect and make these devices and apps functional and useful. In short, software developers design, make and test computer systems so that organisations and equipment work efficiently.
If you are keen on computers and enjoy observing details as well as solving problems, becoming a software developer is a good option for you. With the immense use of computer and cell phones the future is also secure and good in this line in near future.
Employment Facts
The facts are surprising about employment of software developers in last few years and they are expected to grow in future years also. Most of the developers were employed in the computer design and related industries, many are also working for computer and electronic product manufacturers, software publishers, finance and insurance companies.
Some software developers telecommute while most of them work full time, which is normally around hours a week.
Educational Requirements
You will normally need to complete the foundation degree, degree in computing or related subject. Some of the companies may hire you and provide you a graduate training scheme even if you do not have a degree in IT. In any case, you have to be self-motivated as well as a fast learner.
Even though there is no need to have a bachelor's degree to become a software developer, many companies ask for it. However, you can prepare yourself well for this job by majoring in computer science while focusing on building software. Some employers also prefer candidates with a master's degree.
Software developer who is employed in specific industry must have understanding related to it. No matter to which industry you get employed, you have to be aware of how that specific industry operates. This knowledge will help you to develop software that fits in the needs of the users.
Other Requirements
Software developers must have good communication skills because they have to work with a team and need to convey to colleagues working on the same project. They have to be strong and must be capable of working in a team.
Along with the above, they must have good logical talent because this will be needed to understand and determine user requirements and problem solving skills will help the developer troubleshoot problems that pop up during the development process. In addition, having strong computer skills along with being creative and detail-oriented will be beneficial and supportive for a software developer.
Work Activities
As a software developer you will have to work on varieties of projects right from information or financial database to manufacturing robotics. You will have to work along with the project managers and business analytics so that you can find out the requirements and expectations of the client and help find out the best way to accomplish it.
Depending on the job, your work will usually include:
To discuss the requirements of project with the client and the entire development team


To write test versions of the program code


To get involved in technical designing and progress meetings


To test compatibility,installation, and security issues


Review the results of the tests and fix technical problems, if any


Keep accurate records of the development process and all the changes and results as well


To install the full version of the software and run carrying out the quality check before it goes live


When the software is up and running, software developer must be ready to maintain and support system


As a software developer you may have to write computer programs from a scratch or modify the existing code available with the client in order to meet the needs of the project. Once you are experienced, you may need to supervise the developing team and offer feedback on the coding work to help your colleagues perform better.
Remuneration
A software developer normally earns around Rs. 3 Lakh 50 thousand per annum. There are skills that help they get higher pay. The payment rises for experienced developers.
Most of the software developers work full time and for long hours as well. Some dedicated and hard working professionals work even more than 40 hours a week.
Job Outlook
It is expected in the upcoming years that the job of software developers is going to increase by more than 20% which is much faster than other occupations. The main reason behind this increase is the enhancement in the use of computer software and the need of new applications in the mobile technology.
The use of computers in almost every field has increased the opportunities of software developers a lot. Concerns to security threats have also increased the demand for these professionals.

Click to plan your child's education finanace